Blue Sky Harmony in Canberra
Five members of Blue Sky Harmony travelled to Canberra to attend a special workshop by educator Steve Scott, from 22-24 November. Steve works for the Barbershop Harmony Society - the US men's barbershop organisation - as a Music Education Specialist. In this role, he oversees the development and implementation of new interactive and online learning for Harmony University, and assists in the operation of music-based curriculum at Barbershop Harmony Society education events.

Steve's specialisation is in vocal pedagogy, which is the study of the art and science of voice instruction. Vocal pedagogy is used to teach singing, including how to achieve proper singing technique. The classes that Steve presented over the weekend described how the voice works, what doesn't improve singing technique (i.e. mythbusting), how the correct body alignment can positively affect sound, and how to better use breath and vowels when singing.

Barbershoppers from all over Australia took part in the workshop, so this was a wonderful opportunity to catch up with friends from other choruses. The event was hosted by Brindabella chorus, who are heading to the Sweet Adelines International convention next year to compete in the Harmony Classic - a competition of the ten best small-to-midsized barbershop choruses in the world. Workshop participants were treated to a sneak peak of Brindabella's competition package, so we feel pretty special!

We are now looking forward to putting many of Steve's teachings into practice as we work towards performing at the Sweet Adelines Australia Convention and Competition in 2020 in Hobart.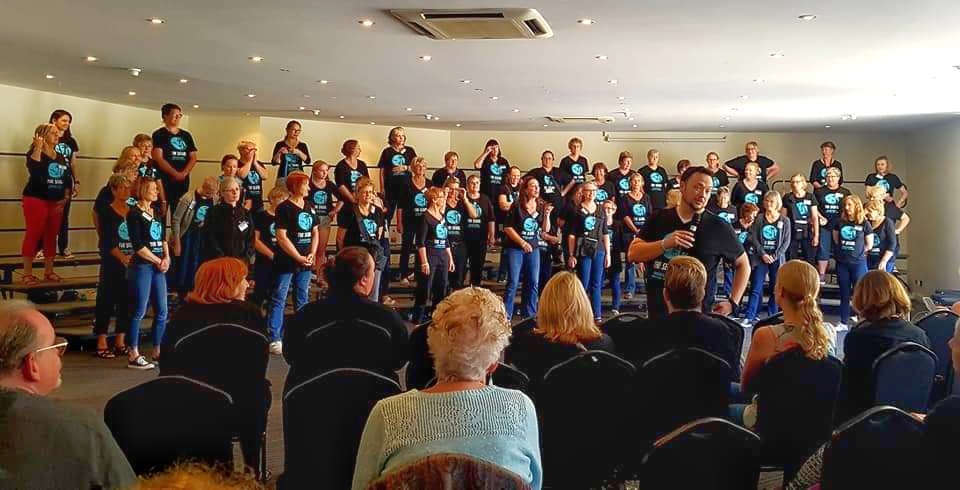 Vocal pedagogy expert Steve Scott coaches Brindabella Chorus.

Featured image: Blue Sky Harmony members Ainslie, Michelle, Suzi, Natalie and Courtney on their way home after an educational, fun-filled weekend in Canberra.