August A Cappella - via Zoom!
In normal years, members of Sweet Adelines Australia are given the opportunity to attend a number of educational events throughout the year. Due to the pandemic, this year's 'August A Cappella' workshop was moved online, and a number of Blue Sky Harmony members were excited to be involved – as an attendee, panel member or organiser.

Sessions included: how to run online personal vocal instruction sessions, the interpretation of barbershop arrangements, myths and misconceptions of the mixed voice, and mental training for singers. Blue Sky Harmony member Liliana, who is a member of the Sweet Adelines Australia Regional Education Faculty, was part of a Q&A session on 'All Things Visual', and other Q&A sessions were run on arranging, quartetting, and being an Assistant Director.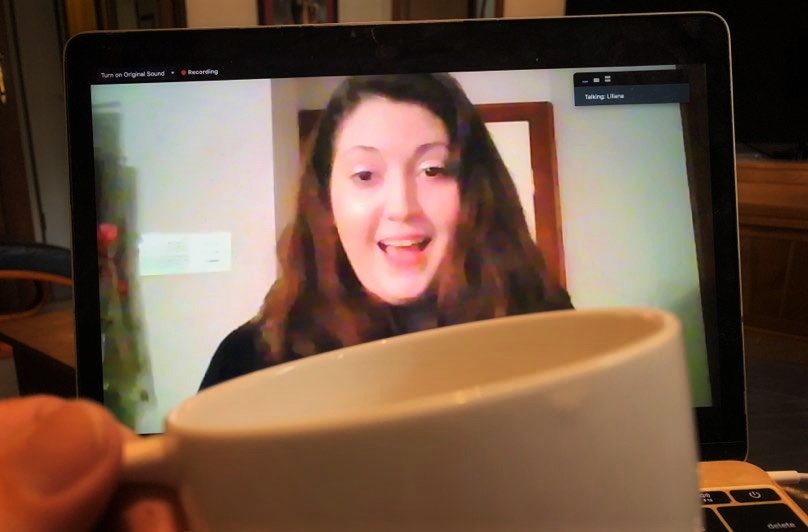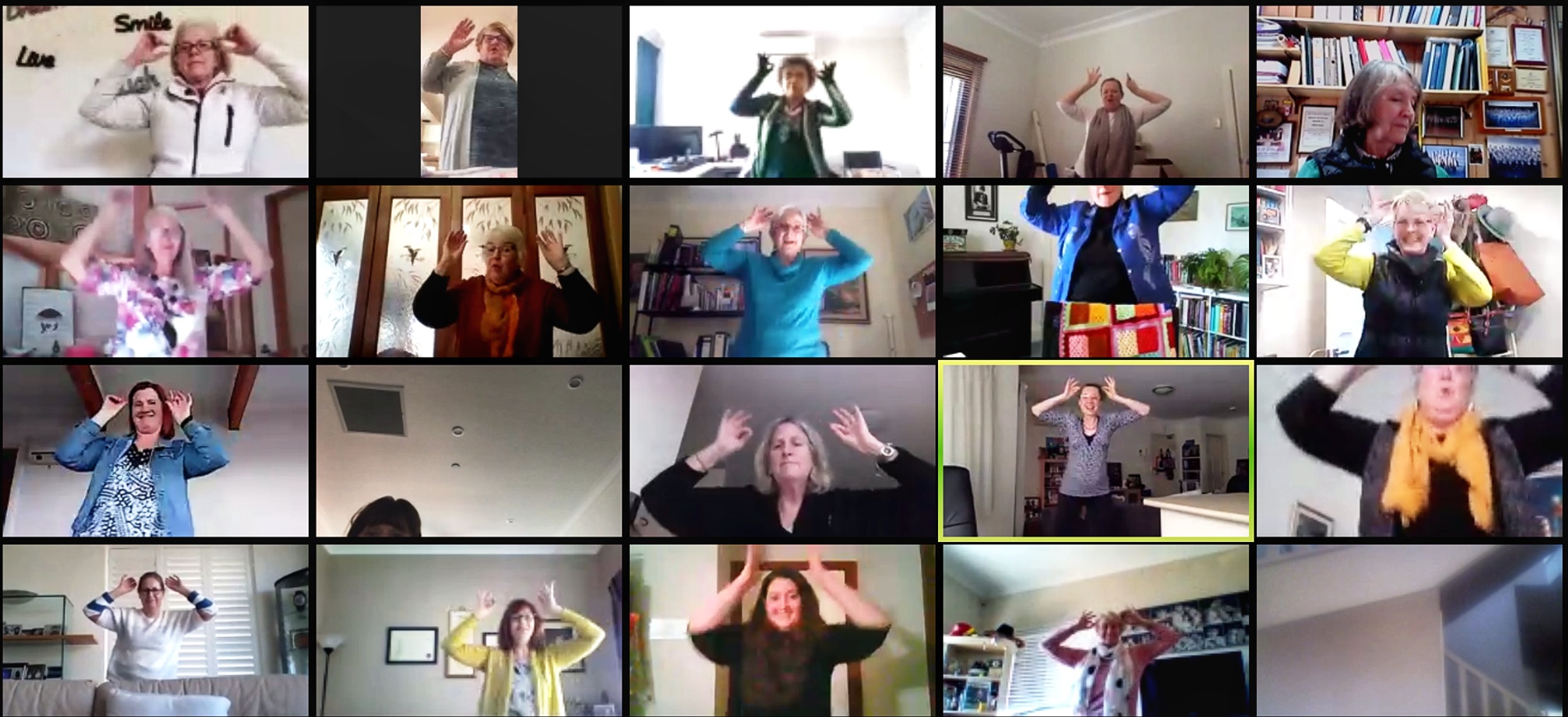 The All Things Visual Q&A Session featured Blue Sky Harmony member Liliana Macarone, along with other visual experts Debra Griffiths and Melanie Mapleson

An absolute highlight of the all-day event was receiving education from International Faculty members Peggy Gram (USA) and Britt-Heléne Bonnedahl (Sweden). Having such top-notch international educators be part of this event – in addition to our Australian Regional Education Faculty – was very special. And all this for only $20! Being part of Sweet Adelines International really provides excellent value for money. Blue Sky Harmony members had a great day of learning and networking with other singers, and can't wait for the next online education event.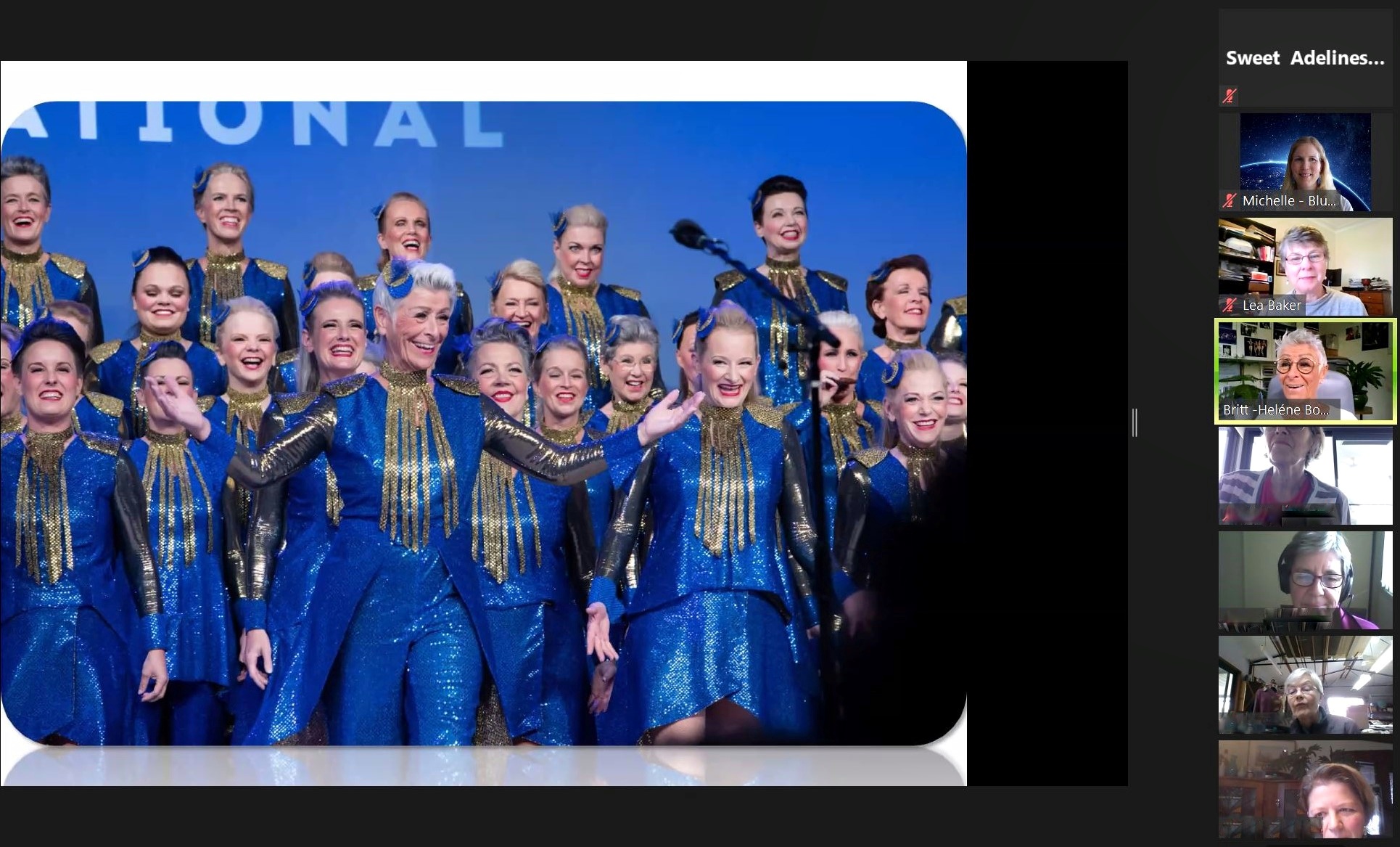 Sweet Adelines Australia members enjoying the expertise of Britt-Heléne Bonnedahl, legendary director of Rönninge Show Chorus, as she presented her 'Mental Training for Singers' class.

Around the country, many choirs are still unable to sing together due to high community spread of COVID-19. We're lucky that Queensland currently has minimal community spread. At Blue Sky Harmony, we're rehearsing using COVIDsafe practices, with limited numbers, wide spacing, the use of hand sanitiser, and strict limitations on attendance if a member is unwell. As we are a small chorus that does not stand on risers, we are able to minimise our risk in a number of ways. However, taking part in any group activity at this time does carry a risk.

We are still welcoming new potential members, but we have revised our visitor policy in light of the current COVID-19 restrictions. So if you're interested in visiting us, please make sure you get in touch with our Membership Coordinator, Courtney, to find out when you can visit and what the restrictions currently are. Please don't turn up to a rehearsal without making prior arrangements, as we will likely not be able to let you join in, which would be disappointing for all of us! Thank you for your understanding.


Featured image: Sweet Adelines International Faculty member Peggy Gram, delivering her class on how to conduct an online 'personal vocal instruction' session.